Just like casual employment, EntireHR can also manage Permanent Placements.

Placements module have their own dedicated MASTERS.

Tutorial on how to setup these masters can be found here -

To access permanent placement section, open the Placements menu from main menu bar on the EntireHR web module.


All the new application can be assessed from here.

Applicant screening can be done by clicking on the "screen" icon.

You can view, delete, define appointment or contact applicant from here..


The "screening" window / section has all the basic features required to screen the applicant.


this section of the module allows you to create a new client for permanent placement.

If you want to use an existing client then, check the "Existing Client" option and this will populate all existing clients in the "Client Name " drop down.

this section allows you to create new job requirements for the clients.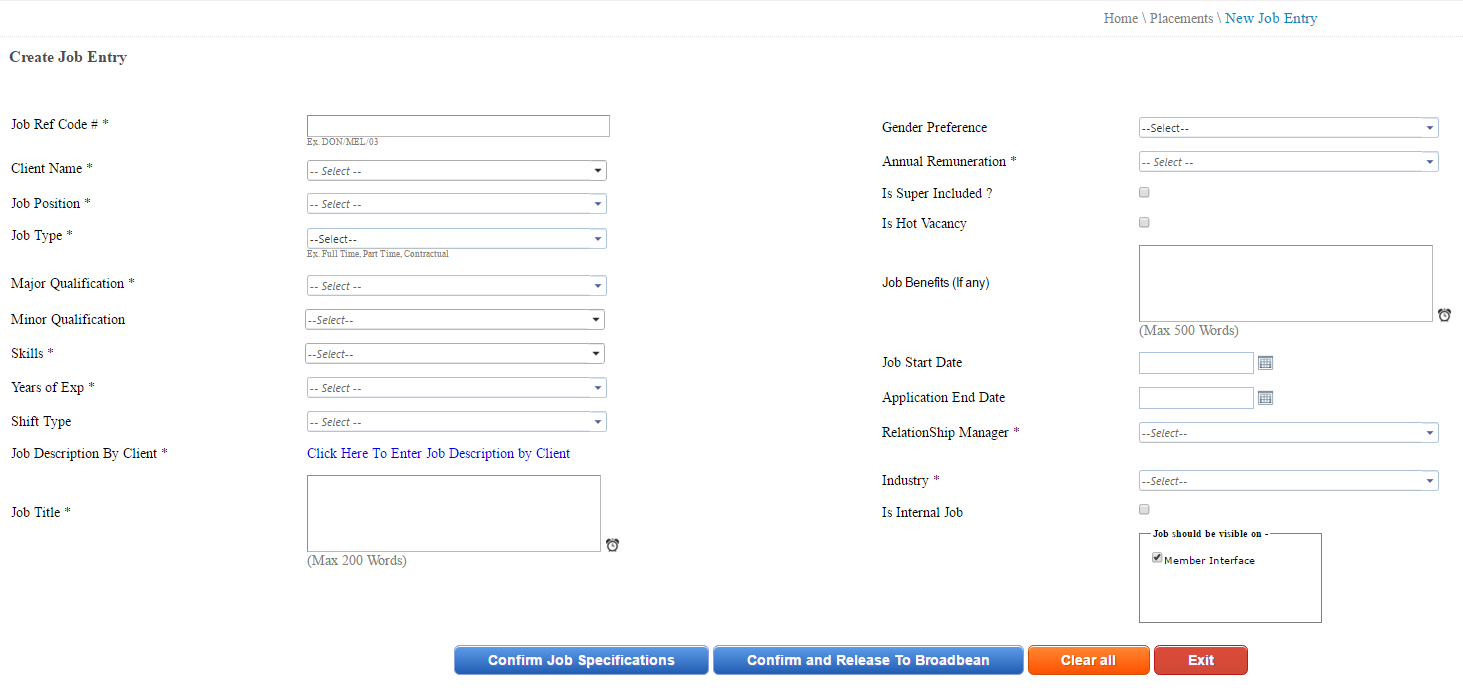 "Job Ref Code # " - can be any code in a format you would like to define. For example - "JC-001"

"Confirm and Release To Broadbean" - this is optional feature to be used only if you are using Broadbean services.

"Confirm Job Specifications" - after confirming the job, the job is released to all the members in the system who are active and whose qualifications match the qualification specified in the job that is released.

Member can see the following screen when they log in to to member portal under "New Jobs" section in the main menu bar.

They can see and apply for jobs from here if they are interested.

Member Portal Screen


use this screen to search for jobs that are defined in the system.


This option is used to search among all the candidates available in the system.


When you click on the name of the candidate the following window is opened -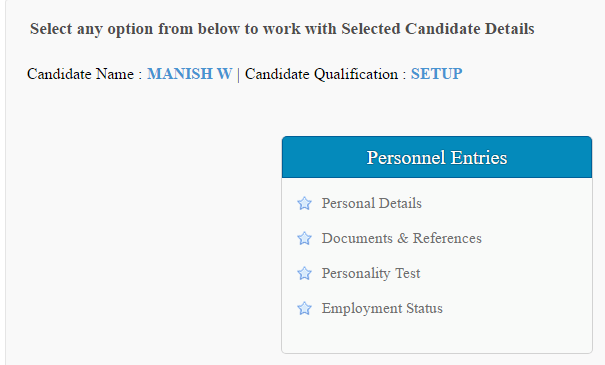 You can view and edit the candidate details from here.

Personal details -

Contains options where you can edit details for a candidate such as his Personal details, Employment details and Registration details.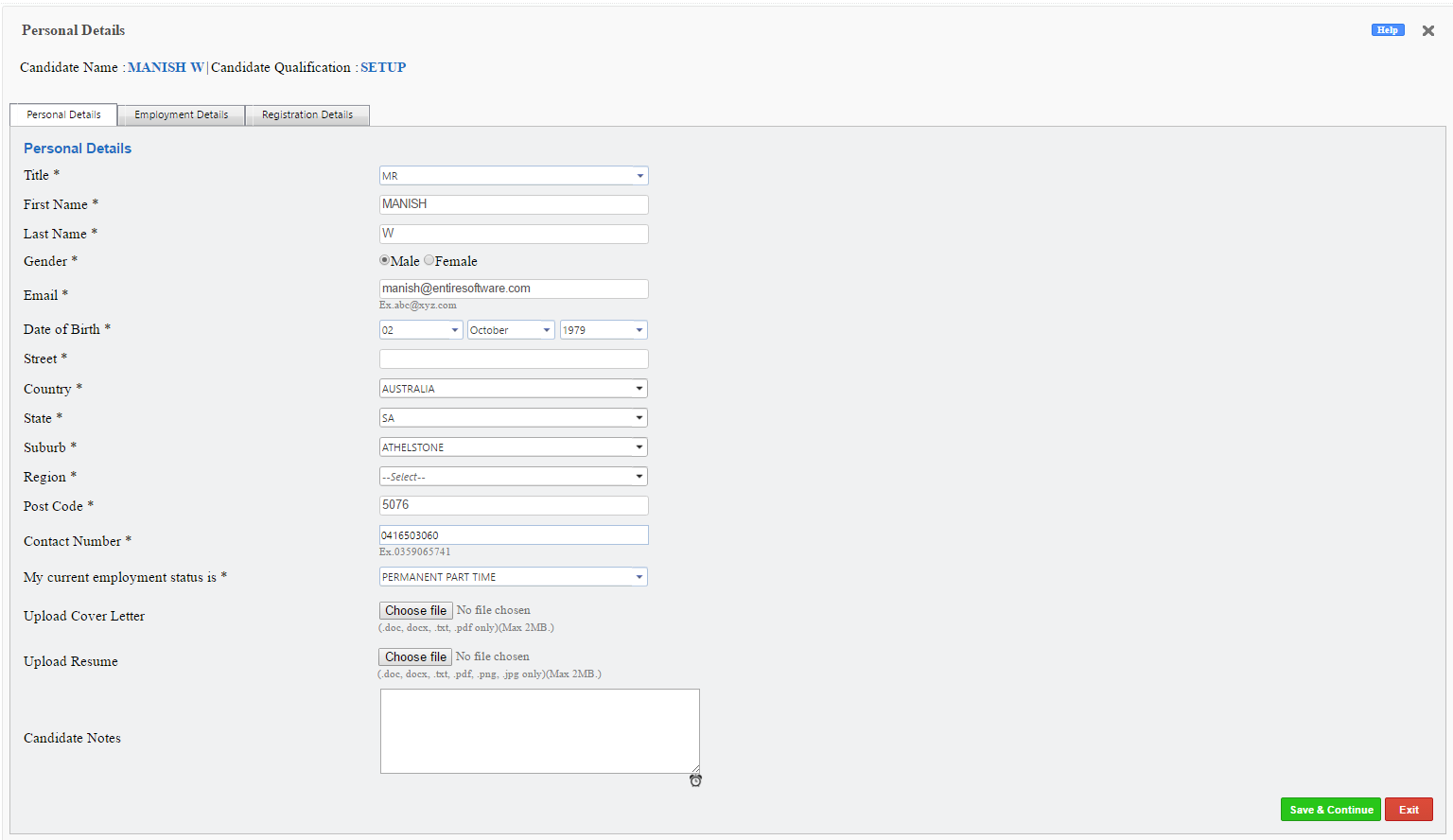 Document & References -

Under this section you can view and upload any document for the candidate. References can also be entered here.


Personality Test -

This is a very useful feature for testing the personality of a candidate.


We can even get a Personality Graph as shown below if we want to.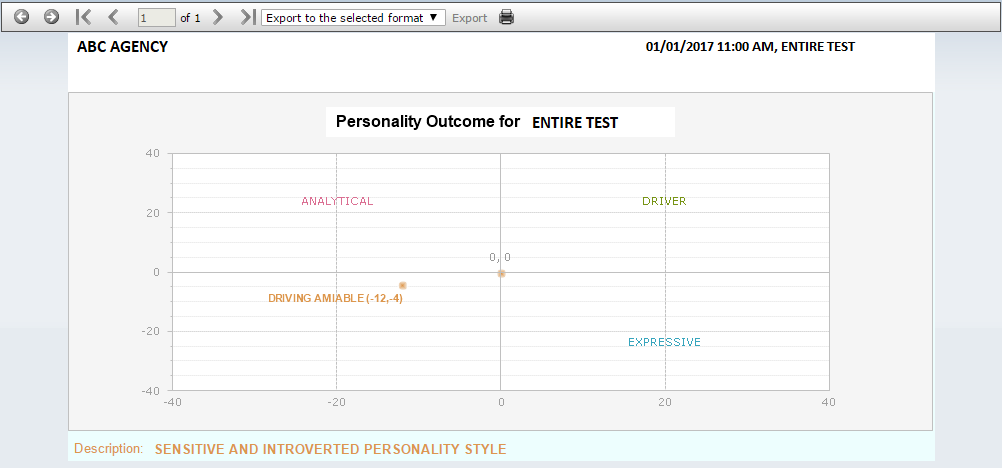 The test is based on strengths and weaknesses of a candidate.

All keywords related to this are defined in the Personality Profile Masters under Placements masters.

Each keyword is defined with a score.

Personality Profile Masters

Employment Status -

You can view and edit the employment status of a candidate from here.

Any kind of recruitment notes that you may want to specify can be saved here.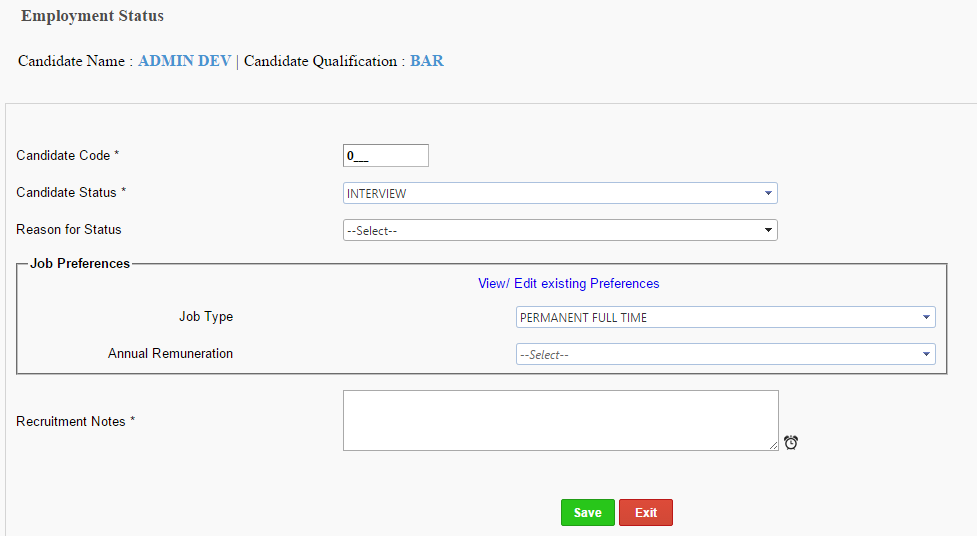 Recruitment > On-Hold Candidates -

Any candidates who are selected for Future or need to re-apply or are currently on hold due to available reasons are found here.


Create New Candidates -

Just like the option for candidates to file a new application through company's permanent placement applications website, the company staff can also create new candidates from this option.